A payday loan is essentially a short-term loan that is granted in cash and has a payback period of typically two weeks. While driving around your neighborhood you must have noticed storefronts that have advertising that reads "Quick Cash", "Cheques Cashed", and "Cash Advance" in bold writing. This signage is used to highlight the fact that these storefronts offer payday loan services.
However, you don't need to go to a brick-or-mortar store to get a payday loan. Today, there are plenty of reputable online sources where you can apply for a payday loan without having to leave the comfort of your home. Even though these loans are generally high-cost loans that have obscenely high annual percentage rates (APRs), they can still be extremely handy in emergency situations.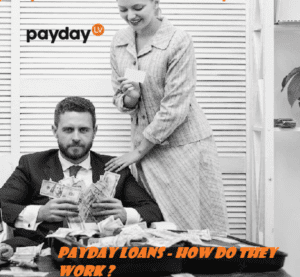 Payday loans are easy to get, have extremely fast processing times, and only require basic identification, an active bank account, and proof of income for approval. No credit checks or background checks are required making the entire loan process quick, painless, and straightforward.
All of us at some point in our lives have come across unexpected financial emergencies. For some of us, we are able to get out of these financial turmoils by borrowing from friends and family but for a lot of people that may not be an option.
What if you are driving to work and your vehicle breaks down? To get it fixed would cost $250 – money that you don't have until you get paid next week. Applying for a loan for such a nominal amount could take weeks to process from traditional financial institutions. In such a situation, applying for a payday loan might offer the perfect solution.
Sure, you are likely to be charged a borrowing cost and higher than normal interest rates but if it means you can get your car fixed and get back to work knowing you will have your paycheck next week to take care of the loan payment. In such a situation, paying the borrowing cost shouldn't pose a problem.
A Note Of Caution!
Always remember though, that payday loans can end up costing a lot more than you would have originally thought if you are not careful. It is always important to make sure that you know exactly what you are getting and what is expected from you in return.
These short-term loans are designed for emergency situations only and in no way should you become dependent on these loans for paying day-to-day expenses as it can lead to you falling into a debt trap.
How Do Payday LV Loans Work ?
In the United States alone more than 12 million people or nearly 2.5 million American households avail the services of payday loans.
Payday loans are different as compared to other types of personal or consumer loans. For one, different states in the United States have different laws, rules, and regulations surrounding payday loans. These laws include clauses that clearly state how much an individual can borrow (max. limit) and limitations on how much the lender can charge in terms of fees and interest.
Some states have stricter regulations than others while there are a few states that prohibit payday loans altogether. Getting a payday loan in America (https://www.consumerfinance.gov/ask-cfpb/what-is-a-payday-loan-en-1567/) depends a lot upon where you live. In most states, these loans can be easily availed from a physical payday lender branch or online.
In order to be approved for a payday loan you must first fulfill the following criteria:
Have a valid ID (passport, identity card, or driver's license)
Have a bank account that is in good standing
Proof of income (last paycheck, employment letter, bank deposits)
That is all you need. Once your application is approved you will receive cash, a check, or a bank deposit. The process is quick and easy and takes no more than five minutes to have the money you need.
You are now responsible for paying that money back plus the interest and fees before the appointed due date. Payday loans typically have a payback period of two weeks (14 days) or until your next paycheck is due.
How Much Does A Payday Loan Cost?
In the United States, the cost of a payday loan varies from state to state. The maximum amount one can borrow at a time also varies depending on where you live.
On average though, you are looking at paying anywhere from $10 to $30 on every $100 borrowed. This may not seem like a lot but you have to remember that you need to pay this loan off in typically two weeks at most.
So, even if you pay $15 for every $100 you borrow and pay it back in two weeks that equates to an APR of 400%, making it one of the most expensive short-term loans you can get.
Frequently Asked Questions
Q) How Do You Payback A Payday Loan?
There are a few options available for borrowers when it comes to paying back their debt. These methods include; pre-authorized debit from your bank account, a post-dated check, online payment, or your next payday check.
Q) Do Payday Loans Affect Credit Score?
Applying and receiving a payday loan does in no way affect your credit score or your credit report. However, if you are unable to pay the loan for an extended period of time a collection agency can purchase the delinquent account and report it to the governing credit bureaus.
Q) Can One Be Denied A Payday Loan?
Yes, in some instances a payday loan application can be denied. Most common reasons for rejection include past borrowing history and insufficient income.
Final Thoughts
There is no denying that payday loans are a lot more expensive than regular personal loans that you can get from the bank. However, payday loans aren't meant for individuals with immaculate credit scores. It is for those of us that don't have sources of credit at our disposal and are stuck in a financial pickle.
In these situations, having a readily available source of credit that gives you the cash you need, when you need it, is nothing short of a blessing. As long as you are certain you can pay the loan back on the next paycheck you have nothing to worry about.